Temporary Container Housing: fighting adversity
Sometimes, exceptional situations lead to outstanding results: Temporary Container Housing is one of these surprising solutions for natural disasters. This multi-story housing project provides 188 homes in Onagawa for those left homeless by the Japanese earthquake and tsunami. The most remarkable detail about this building lies in the use of recycled shipping containers, a mass-produced global module conceived to be transported worldwide by trains, ships and trucks.
In this particular case, containers were stacked up three-story high, with open spaces left between each apartment block. A great advantage results from this original vertical solution: narrow and sloped sites are no longer an obstacle in placing a quick architectonic answer for homeless people.
The residential units are developed in three different variations: 19sqm units for 1 to 2 individuals, 29sqm for 3 to 4 inhabitants and 39sqm residences capable of accommodating more than 4 people. A combination of multiple containers disposed along an exterior corridor generates the inhabitable space that follows the same internal distribution in all three variations: an open plan gathers all social areas – kitchen, dining and living – while a small bathroom and bedrooms respect a more private logic.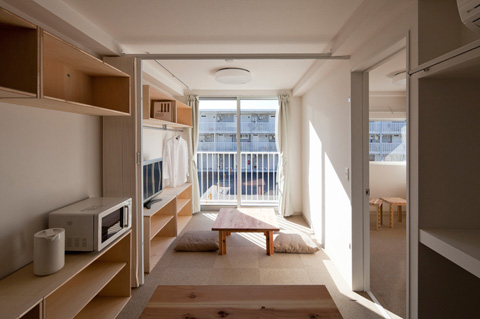 Nevertheless, living and dining areas may be divided with a panel door, because one of the main purposes of this housing container project is to extend its function to a more permanent use. In fact, the entire steel structure was conceived to resist future seismic activities, as well as the interior materials based in wood paneling and cork flooring. A perfect example of prefabricated housing is now erected in Onagawa, Japan.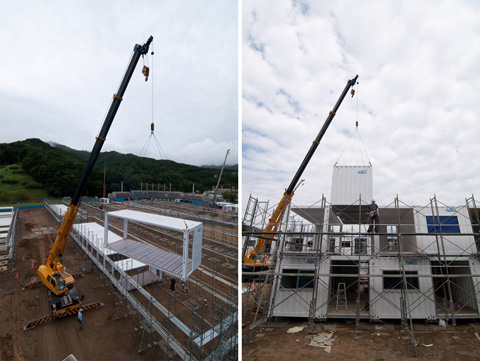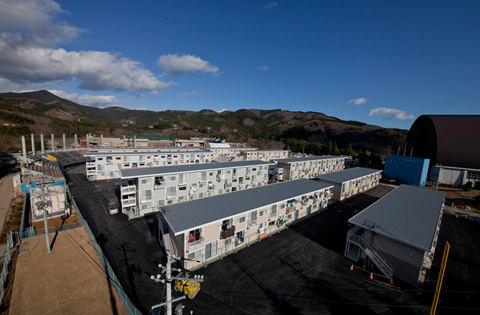 Architects: Shigeru Ban Architects
Photography: Hiroyuki Hirai and Shigeru Ban Architects