Stitch in time
One of the more innovative launches at the 2014 Stockholm Furniture Fair (4-8 February), during Stockholm Design Week (3-9 February 2014) is a fascinating furniture range using plywood panels and leather padding sewn together on an industrial sewing machine.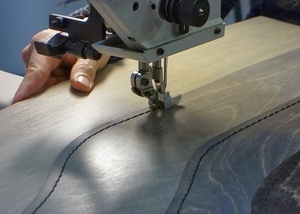 In the wrong hands this could look appalling, but as created and developed by a Swiss/French design duo, Fredrik Färg and Emma Marga Blanche (Färg & Blanche, or F-A-B), the results are surprisingly beautiful. Their use of 'Wood Tailoring', as they call it, has enabled them to create a range thus far of two chairs and a cupboard, all being exhibited at the Stockholm Design Fair.
They stitch layers of different shaped plywood panels together to create a 'topographical map with an organic pattern that resembles the growth of wood'. Combined with appropriate leather padding. The Layer armchair, Bespoke chair, and Pocket cupboard and Layer cabinet are the eclectic results of their Wood Tailoring series.
This article is reproduced courtesy of the Design Institute of Australia.