Serpentine pavilion 2015: So where's the function?
On the edge of a field in Somerset, with a view of a cricket pitch and in an ambience of all-round rural Englishness, is an object on which so many metaphors have been expended that it needs no more now. Just the facts: this is the 2014 edition in the Serpentine Gallery's series of annual temporary pavilions, by the Chilean architect Smiljan Radic, acquired and re-erected by the Hauser & Wirth art gallery. Since rural Englishness, at least in the south, now includes the possibility that international art institutions might set up an outpost in converted agricultural buildings, it stands in the estate of just such a place.
Radic's pavilion (spaceship, dolmen, mushroom, flying cowpat – damn those metaphors) was one of the best in a series that is now in its 15th year. In its new location it is intriguing, a diverting folly, but as it transmits its enigmatic messages to a landscape shaped by chemicals and EU agricultural policy, it also carries an aura of sublime pointlessness. It had more resonance last year, in its short life in Kensington Gardens, London.
This year's pavilion, by the Spanish couple of José Selgas and Lucía Cano, or as they like to call themselves selgascano, is a jolly, gaudy thing, an organic-looking construction of overlapping tubes and layers, iridescent and translucent, as if some pupae had impatiently taken on the colours of their future butterfly selves (damn those metaphors).
It is made of the ETFE, the magic plastic that clads the Eden Project in Cornwall, on a steel frame that gamely tries to keep up with the pavilion's wonkiness. It (the steel) doesn't entirely succeed, which means that the pavilion doesn't entirely succeed either. Some of the details, where twisted metal and crumpled plastic collide, are agonies of un-thought-ness, and the construction is effortful in a way that contradicts the pavilion's desire to be weightless and playful. As might be with the hired entertainer at a children's party, who is not quite as entertaining as you would wish, you are too much aware of the grunting, sweating and cursing behind the act.
The pavilion also veers uncertainly between the homemade and the engineered. Sometimes it seems to be held together with sticky tape, at others built like a small bridge. To be homemade could be engaging, but it is hard to achieve in the context of the regulations and health-and-safety matters that attend public structures, even temporary ones. The pavilion still has some charm and fascination, and it will work best when the lights go down for an evening party. You can still tell that it is the work of clever and inventive architects, which selgascano are. But it is the sketch of a charming and fascinating building, rather than being one.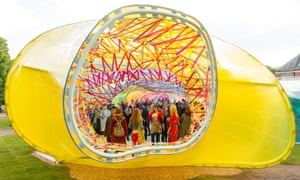 This sometimes happens with the Serpentine's structures. The series has done a wonderful job of giving the public an idea of what architecture could be, with a number of memorable provocations and inventions, but it is based on a paradoxical premise. It assumes that architecture is art, to the extent that its works can be collected as if they were artworks: each pavilion is sold to usually private buyers. This puts it in competition with those artists, say Dan Graham, who create three-dimensional artworks and are usually better at it, while depriving architecture of one of its principal attributes, which is that it serves use. Because they are temporary and built in a hurry, another architectural attribute, the use of detail, is also compromised.
The pavilions, being expensive and short-lived, are also epic works of fundraising, sponsorship as an extreme sport, which is something at which the Serpentine is particularly good. It means that the press release opens with a particular request to name the sponsors and supporters – the Lars Windhorst Foundation, Goldman Sachs, AECOM with David Glover, Stage One, Weil. The description of the architecture gets barely more space than that of Fortnum & Mason's "hamperling", an unusual kind of hamper, I guess, but in any case a "fun and artisanal twist on alfresco dining".
One of the pavilion's few functions is to hold the functions that reward the funders. It is a machine for having the parties that pay for the machine. Which puts further pressure on the architecture – to entertain, to be spectacular, to be visible evidence of the sponsors' generosity. One wonders what the great British architectural thinker Cedric Price, who was an enemy above all of redundant gestures, would have done with a Serpentine commission. Hire a tent, he would probably have said, but then the sponsors would have vanished.
Price happens to be a hero of the Serpentine Gallery's resident brain, Hans Ulrich Obrist, or co-director of exhibitions and programmes and director of international projects, to give him his full title. A reasonable question for the gallery is where to go from here, one with which the soul of Price might be helpful. Is there any way that the talents of architects like Radic and selgascano can be directed to wider and more lasting effect?
It is tempting to think that the Serpentine Gallery might conceive a way of supporting design outside their boundaries – a series of bus shelters, or playgrounds, or school classrooms, or a collaboration with developers on housing projects – where architectural intelligence genuinely made these places in some way better.
Possibly such work is not in the Serpentine's DNA. Possibly the gallery's role in life is tap into the likes of Goldman Sachs in such a way as to provide architectural diversions for the public. But if they continue with a series of annual commissions on their own premises, it would be nice if they could move beyond the concept of singular architectural spectacles, which are then let down by the exigencies of their temporariness.
They could, for example, consider better two of the principal facts of their setting, which are the unpredictable climate of an English summer, and the changes from daytime to night-time use. The current pavilion is embarrassed by this, leaking in the rain and rapidly warming even in weak sun. Something that helped you actually to enjoy such phenomena would be worth having. Cedric Price might have said that the answer to this question is "a tree", but we could see if something manmade could do as well.