Sérgio Bernardes: the beautiful and the damned
"I am damned man," says the white-suited architect, surveying Rio de Janeiro from one of its peaks. "Because I'm damned, I am free to do whatever I want."
This was in about 1980. In the 1960s Sérgio Bernardes had seemed far from damned, unless by puritan definitions. He was prodigiously productive and brilliant, ranked on a level with the most celebrated of Brazilian architects, Oscar Niemeyer, and living a glamorous life in a beautiful waterside house where guests included the Kennedys. Also Brigitte Bardot, until his wife found her in bed with his son and ejected the actress, screaming. He raced cars for fun, and when one careened off the track into the ocean, he swam to safety. He was a galvanic, mesmerising character who worked 18 hours a day and in one month designed 25 houses. He was a vastly successful womaniser. "He seemed," says one who knew him, "like a Roman emperor."
His first work, designed when he was barely adult, was a revolutionary house, the first in Brazil to use steel construction, which embraced the landscape in which it stood. He was noted for the rough-edged aesthetics of his buildings, and for the way he worked closely not only with his clients but also with builders. His approach has been called "emotional", one based on human relationships. "He designed the best houses in Brazil because he loved living very much," recalls an associate. "Niemeyer's houses were beautiful but not comforting. Living well was Sérgio's thing." Bernardes himself said that "architecture is not supposed to be completed, it is supposed to be lived".
He is now the subject of a film, to be shown in London for the first time this week, in which his grandson, also an architect, tries to comprehend him and unravel his mysteries, the central one being his disappearance from critical esteem and almost from history. The film echoes Nathaniel Kahn's search for his father, Louis, in My Architect, although in the case of Bernardes it is less about the psychological journey of the younger man. Which does not matter too much as Sérgio alone is a large enough subject to fill a film.
The first twist in his apparently unstoppable life and career came in the radical year of 1968. Designing a hotel in Manaus, Bernandes wanted to put it under a huge tent or geodesic dome within which the jungle could merge with the architecture. He met Buckminster Fuller, the visionary promoter of geodesic domes, was seduced by Fuller's passion for grandiose, world-saving plans, disappeared to the United States, and sent a letter to his wife declaring that "he was tired of acting", that he wanted to "change how humankind live", and was therefore ending their marriage at the point of its 25th anniversary. He also abandoned his lucrative hotel commissions, when it proved impossible to pursue his idea for Manaus.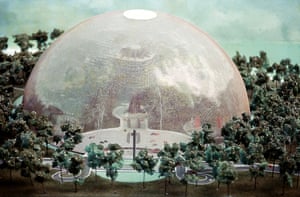 He did eventually return to Brazil and continued his prolific practice. Too much so, as the country was under a military dictatorship with which he was too willing to collaborate. Interviewees in the film get uneasy when describing this part of his life – "I won't talk about the political situation"; "I am not authorised to talk about it". Bernardes, who refused to identify with any political movement and naively thought he could change the government by working with it, designed a huge ceremonial flagpole for Brasilia. This was doubly offensive to progressives: it was a nationalistic monument for the dictatorship and it desecrated the Oscar Niemeyer architecture of which the city's centre is made.
Worse, he designed a military academy, even more naively thinking that he could influence the training of officers with his designs. It was not built, and his attempts at compromise caused him to be rejected by both left and right. He came up with colossal plans for redesigning Rio and for transforming Brazil by rearranging its rivers with the help of views from space that he bought from Nasa. But this "elephant", as is said in the film, "was too big to be financed by an architectural office", especially when the government was refusing to pay fees for unrealised commissions, and he closed down.
He next appears in 1980s chat shows, where a yellow-clad harpy and an oleaginous man bluntly say "you've gone bankrupt", to which he responds "I have no limitations". He ran for election as mayor of Rio on a platform of dividing it into 69 self-governing sub-cities and, with the electorate finding him captivating but incomprehensible, won 0.36% of the vote. For most of the rest of his life, until becoming debilitated by illness and then dying in 2002, he worked as fervently as ever, drawing circles and triangles on plans of huge ambition, to which the rest of the world paid less and less attention. He would sometimes address students, for example, thus: "None of you is going anywhere. You're dead pretending to be alive. You just don't smell dead because you use deodorant."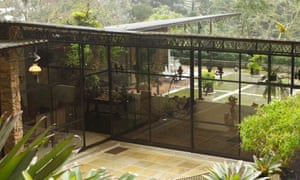 The film encourages you to see his later years as a kind of ultimate freedom, as the fulfilment of his determination to be true to himself, but there was also much delusional bombast, which is all the more tragic for the fact that his earlier projects are great precisely because of their nuance and their attention to the realities he found around him. His São Cristóvão pavilion, for example, was not only a pioneering piece of engineering but was designed with the limited skills of an inexperienced workforce in mind. His Hotel Tropical Tambaú, a circle half-capturing a beach, is designed to disappear from view. It also includes concrete grilles through which the tide washes, which by amplifying the sound of waves make it part of the spatial experience. Given an inconspicuous site for his pavilion for the Brussels Expo of 1958, he drew attention to it with a balloon which, rising and falling above a hole in the roof and depending on weather conditions, could allow ventilation or block snowfall.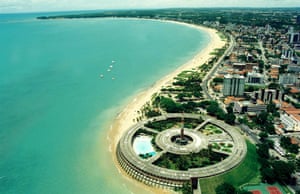 In the film he is more than once called "extreme", and among other things he took to extremes the dilemmas architects face, such as the extent to which they can be creatively and politically free, or have to be complicit with the power and money for which they work. Also the necessity to be optimistic while also driven by an artist's perpetual dissatisfaction. He sometimes resembles a less astute Rem Koolhaas, who also made an accommodation with tyranny in his TV headquarters in Beijing, and installed a giant balloon on his Serpentine pavilion.
Despite his manifest failings and failures, the overwhelming mood of the film is awe and admiration for this life force. A granddaughter is interviewed, who forgives him for telling her, when she was 10, that the colour of her favourite dress was "dick pink". And there is his daughter, who says that "unfortunately he was the most important man in my life. I had the best men in Rio after him, but none were half as good."