MOST in Milan 2013
The day before the 2013 Milan Furniture Fair (9–14 April) really launches, I got into the swing of things with a visit to the Museum of Science and Technology where the MOST series of exhibitions was showcasing designers and brands initiated by Tom Dixon, whose own work is also part of the show.
The benefit of the location lies not only in the series of buildings belonging to the museum such as a wonderful early 16th century monastery, but also in its collection of vehicles and machinery, including a submarine, steam trains and an aeroplane. Dixon, who began his design career as a welder, is no doubt inspired by this heavy machinery – but this also enhances and informs the pieces on display.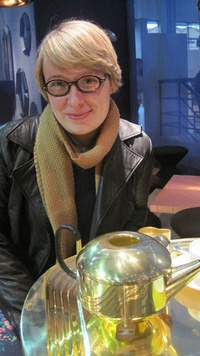 The first stop on entering is Dixon's own collection, with exhibition design including construction tape, signs and machinery. New work includes a faceted series of lights and furniture called Gem, sand cast from nickel-plated aluminium, and Mass Coat Stand and Book Stand, large, heavy, immovable objects made in heavyweight metal. MOST this year also includes a Tom Dixon Tea House, at which your tea is served in Tom Dixon's beautiful new Spun gold tea sets.
Downstairs, a bevy of brands and designers are on display, including beautiful works from Glass is Tomorrow – a collection made by European glass artists across three workshops in Finland, the Czech Republic and France. Upstairs was a new collaboration between design store Fab, Belgian design studio Quinze & Milan and the Andy Warhol Foundation – Warhol's brillo pad artwork has been brought to life in the form of a sprayed foam ottoman. In an adjacent building was Tom Dixon's collaboration with Adidas — a collection of luggage, footwear and apparel called The Capsule. The pieces, designed to be "packed neatly for a weekend away," were displayed on clothes hangers, moving on a loop through a large warehouse space where the museum displays its train carriages.
And on the top floor, the avant-garde Belgian designers, Studio Job, styled their new collection of furniture with gold noses for handles, and oversized keys and light switches, in a room with beautiful renaissance paintings – juxtaposing old and new.