Lucy Humphrey: Sculptor by the sea
Architect and artist Lucy Humphrey was awarded a Helen Lempriere Scholarship to develop her site-specific artwork Horizon, for the 2013 Sculpture by the Sea, Bondi. Three of the scholarships are made each year – to a senior, a mid-career and an emerging sculptor. Lucy Humphrey took the emerging sculptor spot, joining Paul Selwood (senior sculptor) and Francesca Mataraga (mid-career).
All Australian artists who applied to exhibit at the 2013 Sculpture by the Sea Bondi (24 October–10 November) were automatically considered for the scholarships by the curatorial panel: Dr Michael Hill (National Art School), Deborah Edwards (Art Gallery of NSW), and Geoffrey Edwards (Geelong Gallery), and Julie Lomax (Australia Council for the Arts).
Humphrey was an exhibitor in the 2009 Sculpture by the Sea exhibition and had submitted concepts for the 2010 and 2011 exhibitons. Her interest in this type of expression came early: her mother is a painter, her stepfather, a sculptor. As a young girl, she was inspired by the work of British sculptor, photographer and environmentalist Andy Goldsworthy's sculptures in the landscape, and was later drawn to the audacious installations of Christo, Jeanne-Claude and Anish Kapoor for their epic scale and reductive palettes. "I probably look more at the work of artists than architects to be honest. I'm fascinated with really large-scale work that's simple and bold and reductive in its palette of just one or two materials. That more intuitive use of material and space is what intrigues me."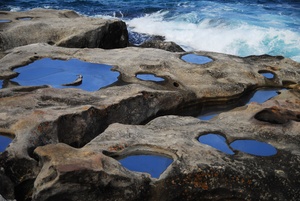 "So, I'm very interested in environmental and site-specific art, and especially drawn to exploring water as a material. My piece for the 2009 exhibition – Alchemy – mimicked natural rockpools, using mirror polished steel inserts in the rock face. For this year's exhibition, I'm working on a piece called Horizon – a large water-filled sphere, that turns views of the site upside down through a ball lens effect. It's quite abstract compared to Alchemy. It will likely be made using thick formed acrylic sheet, filled with recycled water, and mounted on a discreet base of concrete and steel."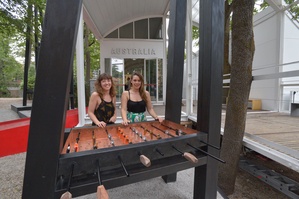 Humphrey founded her eponymous Sydney architectural studio in 2009. Then, in 2011, with Claire McCaughan of Sam Crawford Architects, she co-founded Archrival as a not-for-profit vehicle for collaboration on sculpture, installations and other "acts of intervention." They produced Arena Calcetto as a play space outside Australia's pavilion for the 2012 Venice Architecture Biennale to provoke people into engaging with each other through play (they are reprising it for Sydney Art & About 2013).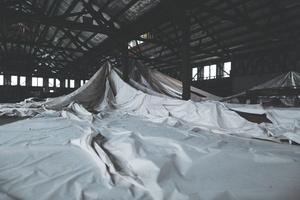 Earlier in 2013, Archrival collaborated with Carterwilliamson Architects to mock up the Everest stage set for I Love Todd Sampson – a theatre project by Living Room Theatre with architectural consultant Andy MacDonald of Mac-Interactive. Using 4,000 metres of recycled newsprint, 500 metres of white cord and thirty solar-powered lanterns, they created a desolate landscape for the play's dramatic climax, within the wooden hulk of Pier 2/3 Walsh Bay. The theatre project, combining art and architecure, is reviewed in the May/June 2013 edition of Architecture Australia.
Other pieces by Humphrey have been exhibited at the Sydney Fringe (2011) and Sydney Festival (2012), the Venice Architecture Biennale (2008 and 2012), Sydney Art Month (2013), and Mercedes Benz Fashion Week (2013).
Sculpture scholarship
The Helen Lempriere Scholarship is part of the Helen Lempriere Bequest, a charitable trust managed by Perpetual to provide scholarships for the applied arts and crafts. This is the fourth year the scholarship has been associated with Sculpture by the Sea, whose founder David Handley says, "The funds make a world of difference to the sculptors. At a time when national and international exhibition opportunities are opening up to Australian sculptors, it is wonderful to have already helped twelve artists with scholarships since the partnership began." What Handley first staged in 1997 along the stunning Bondi Coastal Walk, has grown to become the world's largest annual free public outdoor sculpture exhibition, now held annually in Bondi, Cottelsoe WA and Aarhus in Denmark.