Japanese architect designs 'challenging' childcare centre in Melbourne
Architecture, News
11-12
280
Comments Off

on Japanese architect designs 'challenging' childcare centre in Melbourne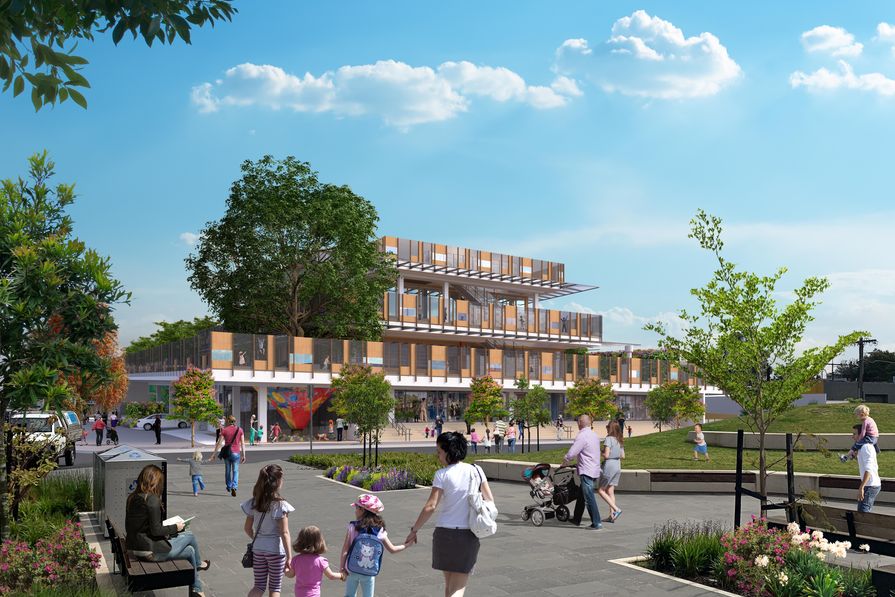 Japan-based firm Tezuka Architects has collaborated with local practice Milton Architects on a multi-level childcare centre for Fishermans Bend in South Melbourne.
The $100 million Emerald Place project, now approved for development, will occupy a significant, 9,500-square-metre site in the former industrial area, and will accommodate 380 children and 100 staff.
The design draws from current research into the importance of outdoor play for early childhood development. The building will feature a number of levels that appear to slant, and outdoor areas that are raised to create inclines and undulating surfaces, which are intended to develop vital motor skills and create simple challenges that aid cognitive learning.
"Through the design of Emerald Place, we are intentionally taking children out of their comfort zones and creating obstacles and challenges that will aid their learning and development," said Takaharu Tezuka, co-founder of the firm.
"This has been achieved through design elements such as the sloped and inclined surfaces designed to create small inconveniences for the children. These small difficulties arerepresentative of the world outside the childcare centre, thereby helping prepare them as they grow."
The centre will feature 4,500 metres of outdoor play areas, encompassing natural turf, a fruit orchid and a man-made creek.
Tezuka Architects is famed for its award-winning Fuji Kindergarten project Tokyo – a doughnut-shaped building with a timber that that forms the roof and three trees puncturing the building.
Milton Architects has helped ensure the design is site specific. "The outcome of our collaboration is a conceptual design that has the potential to have a revolutionary influence on the education of young Australian children," said principal Steve Milton. "Using many of the principles applied in the design of the Fuji Kindergarten adapted to our localclimate, culture and early learning regulatory environment, we have developed a world-first in early learning and also something uniquely Australian."
Emerald Place will include a swimming pool, where children can complete swimming lessons during care hours. It will also feature subfloor ventilation that will heat ground surfaces and create a tactile, comforting sensation.
Behind the project are Mike Wu and Shan Kuo, founders and owner-operators of the rapidly expanding Little Lane early learning business. They purchased the property at 8 Buckhurst Street in 2017 for $61.8 million, which originally had an approved scheme for four 30-storey towers designed by Fender Katsalidis. The proprietors anticipate more than $30 million will be spent on the architecture, construction set up and operating costs.
The owners say their aim is to develop a new standard in early learning while keeping the price accessible to working families.
Construction is due to start in January 2020 with doors set to open in 2021.