Former London strip joint wins Camra pub conservation award
A King's Cross freehouse that once attracted notoriety as a strip joint, a more than 300-year-old Lancashire public house, and a stunning Edwardian street corner local in Sheffield have all clinched top design awards in a prestigious national scheme.
The Scottish Stores picked up the 2016 conservation award from The Campaign for Real Ale (Camra) for its transformation from an unloved dive in a London "red light" district fronted by burly bouncers back to its wood-panelled – and Grade II-listed – architectural glory.
The quality of the refurbishment of the pub close to King's Cross station was singled out by Camra as an example of how to bring a much-loved urban landmark back to life.
"English Heritage have already visited us," said the general manager, Ian Collins, "and are thrilled at the transformation. We still get customers coming in who remember the pub in its old days and they get quite a surprise. This is all part of the regeneration of the King's Cross area and we are very proud to have played our part."
Camra's annual Pub Design awards – held in association with Historic England – recognise high standards of architecture in the refurbishment and the conservation of existing pubs. Celebrating the potential for restoration – despite decades of change and even closure – last year they attracted a record number of entries.
The refurbishment and Joe Goodwin awards – named after the late Camra chair – are reserved for outstanding refurbished street-corner locals and this year have both gone to the Tim Bobbin in Burnley, Lancashire. The handsome stone building dates by to 1701, but was insensitively restored in the 1960s, leading it to looking tired and sad by the 1990s. Brewery chain Samuel Smith's in-house architects rescued the pub through a £1m refurbishment.
The Ship Inn in Shalesmoor, Sheffield, was also commended in the refurbishment category. Its interior was left to deteriorate after its surrounding community was bulldozed and it found itself perched on the edge of a busy road. Having been shut for years, the pub has now been restored to its former Edwardian grandeur.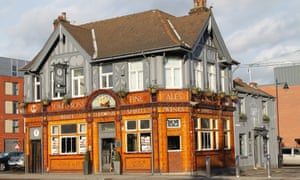 "This year the judges have singled out three buildings – all of which, in their own way, point to a bright future for the traditional British pub," said Sean Murphy, Camra's pub design awards coordinator. "All three show the huge potential for restoring and preserving much-loved heritage pubs to their former glory, even after decades of change."
The four-storey Scottish Stores, with Grade-II listed interiors, was designed in 1900-01 by architects Wylson and Long. Originally an inn – which meant it had to provide rooms to traders – it took its name from the tradition of haunches of venison hung from the bar which were brought in and sold to local restaurants and businesses by visiting Scots traders.
In its early incarnation it became the haunt of prostitutes, soldiers and gangs, better known for fights and brawls than for the quality of its beer. In the early 1980s it was restyled – and renamed The Flying Scotsman – attracting a less than salubrious reputation as one of the last remaining strippers' pubs in London. Shane MacGowan famously penned the Pogues song A Pair of Brown Eyes in one of the bars.
The Scottish Stores re-opened in December 2015 – under its original name, which welcomed visitors in on the tiled floor at the entrance – after refurbishment of its three small, wood-panelled bars and arts and crafts-style detail, including carving and hand-bevilled glass windows at the front. The original wooden panelling was largely intact, though boarded up or painted over.
The business is privately run by a family, which owns the neighbouring Wine Stores. Its main focus now is as an ale and craft beer house, catering for local residents and businesses, along with station travellers and tourists, with an ever-rotating beer range sourced from Kent to Iceland.