Editor's choice: Day two of 2015 Maison&Objet Paris
This year marks Maison&Objet's twentieth anniversary of bringing together decoration, design, furniture and accessories in this grand exhibition. Architecture Media editorial director, Cameron Bruhn explored the exhibits and displays at the September 2015 edition of Maison&Objet in Paris. Here are his favourites from day two:
Silai from GAN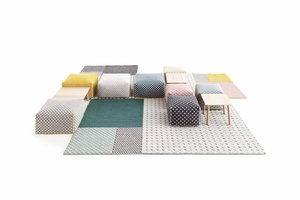 Sila is the new collection from Belgian designer Charlotte Lancelot for GAN. Silai means "stitch" in the Indian language and represents a reinterpretation of petit point embroidery. Inspired by the work of craftsmen, Charlotte Lancelot has created a contemporary collection which aims to rediscover hand embroidered techniques. Woven over a plastic grid, or a "framework," the petit point are simple rapid diagonal stitching. The design of the carpets includes four types of distinct stitch that, combined with each other in different ways, create a beautiful harmony of colours and textures. The carpet becomes a reference point, it can be coordinated with elements – cushions, poufs and wooden side tables.
Visit Gan's website for more information.
Olmo bench from Imperfettolab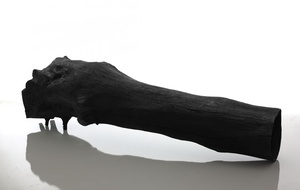 Designed by Verter Turroni from fibreglass, the Olmo sculptural bench is the perfect synthesis between the natural and artificial. Olmo is not only a seat but also an object to look at; it is not only a piece of furniture but also an installation for domestic and public places. Thanks to its material, Olmo is extremely light despite its size.
Visit Imperfettolab's website for more information.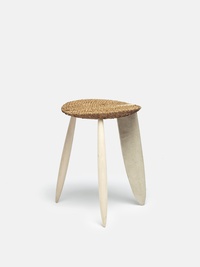 Fins stools for Moustache
The Fins collection by Formafantasma puts to use fish skins rejected by the fishing industry and, in this way, examines the question of resources and materials in the furniture industry. These skins are most frequently obtained from commonplace fish such as salmon or cod.  Here, they are used to cover a stool. Apart from the aesthetic appearance inherent in the use of tanned fish skins, this material commits its user to an unusually direct relation with the animal world. The Formafantasma Fins collection flirts with the world of taxidermy and the symbolism of the natural world.
Visit Moustache's website for more information.
Circus pouf for Normann Copenhagen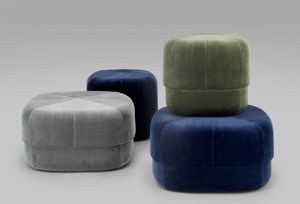 Circus pouf , created by Danish designer Simon Legald, is rounded in shape, with clean, graphic lines characteristic of Scandinavian design. Circus draws inspiration from antique Moroccan leather poufs which focus on handicraft, and it explores the design construction and plays with the details. The traditional patchwork patterns are replaced by a plain triangle motif, giving the pouf a contemporary look. Circus is a playful yet  sophisticated addition to any space. Circus pouf is available in soft and luxurious closely woven velour in five saturated colours.
Visit Normann Copenhagen's website for more information.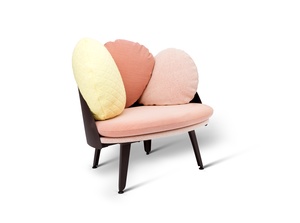 Nubilo sofa for Petite Friture
Designed by Constance Guisset, Nubilo is a sofa and armchair, featuring numerous cushions that evoke the image of a cloud. The cushions vary in their size and form and ask to be played with. Attached to the sofa structure by elastics and pressure, the cushions can be moved and repositioned according to desires. "Nubilo is a sofa composed of soft, round cushions, that can easily be arranged to ensure comfiness. Clouds, balloons, pebbles … Nubilo becomes a dream-like destination, a stepping stone for our imagination," says designer Constance Guisset.
Visit Petite Friture's website for more information.
Ink desktop series from Skultuna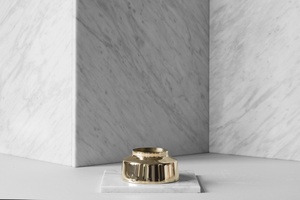 Emma Olbers was born and raised in Gothenburg, Sweden. She moved in her twenties to Stockholm where she was educated first at Nyckelvikens art school and then at Beckmans College of Design. In 1999 she founded her studio and Asplund and Ire furniture became major clients. The Ink desktop series is the first collaboration with Skultuna and it consists of a pen holder and a small container.
Visit Skultuna's website for more information.
Duo seat and lamp for Valerie Objects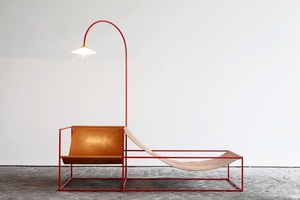 In 2011, photographer Fien Muller and sculptor Hannes van Severen made their debut as design duo Muller Van Severen at Galerie Valerie Traan. Their joint furniture project attracted international attention virtually immediately and their furniture sculptures can be seen in leading galleries and museums around the world. Muller Van Severen has been on an inspired quest for sculpturally interesting furniture objects since then – items that are spontaneous and produced with apparent effortlessness. Their furniture sculptures usually offer additional functional possibilities, such as combining seating, storage, working and lighting into the same object, as seen in the Duo seat and lamp.
Visit Valerie Objects' website for more information.