Cultural identity: Koolhaas frames the Venice proposition
Rem Koolhaas has released his curatorial vision for the 2014 Venice Architecture Biennale which opens in June. Koolhaas was appointed curator for the 14th International Architecture Exhibition in January 2013 when he unveiled the theme of Fundamentals. In March 2014, further details were released.
"After several architecture Biennales dedicated to the celebration of the contemporary, this time it will look at histories, try to reconstruct how architecture finds itself in its current situation, and speculate on its future," Koolhaas elaborated during a press conference at the Italian Cultural Institute in London. Koolhaas explained that the 2014 Biennale's overarching theme will be explored in three interlocking exhibitions – Absorbing Modernity 1914–2014, Elements of Architecture and Monditalia.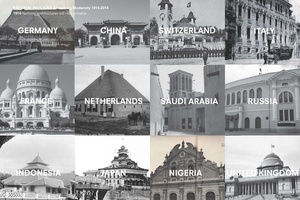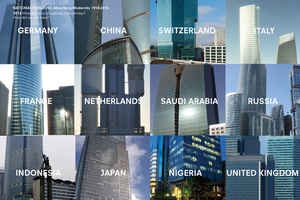 Absorbing Modernity 1914-2014 invites national pavilions (at the Giardini and venues throughout the city) to show how national characteristics of their architecture have been 'erased' over the past century in favour of the universal adoption of modernity. To illustrate this, Koolhaas has compiled two sets of images with examples of architecture from twelve countries to contrast the diversity of national styles prevalent in 1914 with today's bland global conformity, evidenced by recent buildings from the same countries.
Elements of Architecture, in the Giardini's Central Pavilion, will focus on the fundamentals of buildings, that is, those elements which are important in architecture anywhere and at any period. Koolhaas nominated floor, wall, ceiling, roof, door, window, façade, balcony, corridor, fireplace, toilet, stair, escalator, elevator and ramp as his fifteen fundamental architectural elements, but excluded columns, which he characterized as structural elements. Rooms within the pavilion will be devoted to individual elements, which will provide microscopic view of architectures, but the participation of various universities from around the world in developing this exhibition will ensure a macroscopic viewpoint.
The third exhibition, Monditalia, dedicates the Arsenale to a single theme – "Italy", said Koolhaas. "Forty-one projects will cross the Italian territory from north to south." Contributors will be listed according to the geographic coordinates of their projects, along the Corderie, which will also accommodate dance, music, theatre and cinema interventions. "These episodes will present a scan of the entire country, symbolised by the Tabula Peutingeriana, a fifth century map of Italy as the core of the Roman Empire," he concluded.
Koolhaas co-founded the Office for Metropolitan Architecture (OMA) in 1975 and is renowned for practising urbanism and cultural analysis alongside architecture. In 1998 he established AMO as a platform for applying architectural thinking in non-architectural realms. It's no surprise then that his curatorial vision is research-centred and will incorporate elements of music, dance, cinema and theatre from other Venice Biennales.
Read the definitive Rem Koolhaas interview from the current edition of Architecture Australia.